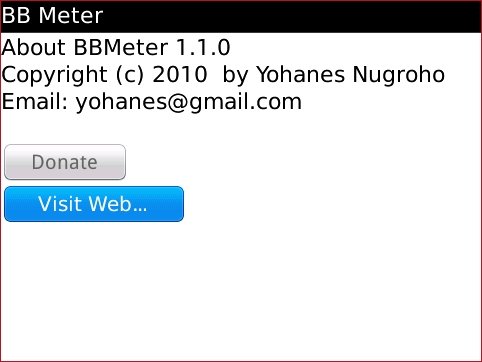 Tag:
BB Meter
Overview :
BB Meter v1.1 os5.0 apps free download

Bb-meter is a free application to monitor the battery level, percentage, memory level and signal level in your blackberry. It can be used in OS 4.5+.
NOTE: You need to wait about 30 minutes to an hour until "discharge level" is available. BB Meter will wait until battery level drops two times until it can get correct reading.
Features:
lightweight (less than 30 kb)
monitor battery level and discharge rate of your blackberry
battery level logging happens only when battery level is changed
battery icon is changed only when battery level is changed

Model:
Blackberry 96XX Tour (Niagara) Series (480*360):9600, 9630, 9650(Tour2), 9700(Bold2), 9780 /Blackberry 95XX Storm Series (360*480):9500, 9510, 9520, 9530, 9550(Storm2), 9570(Storm3), 9800(Torch)/Blackberry Pearl 3G Series (360*400) Devices Models: 9100, 9105, 9670(Style)