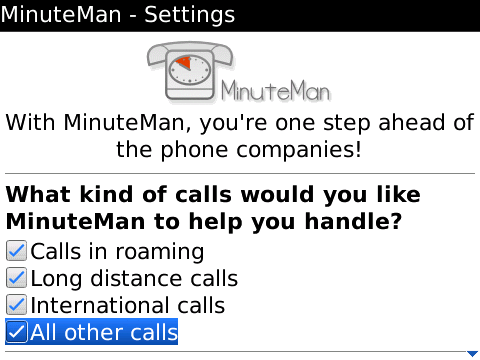 Tag:
MinuteMan
Overview :
MinuteMan v1.0 free blackberry apps download

Don't let your wireless carrier catch you off guard!
With MinuteMan, you're one step ahead of the phone companies. MinuteMan alerts you just before you start using another minute, so you don't waste expensive airtime.
Do you hate to be charged for a full minute when you just used a couple of seconds? So do we. Especially when it comes to those costly roaming, international, long-distance, and "away zone" calls*. You really could have just said "bye" literally seconds earlier – and you would have saved that minute. Or you could have enjoyed the chat for almost another full minute – if only you could easily track your call duration without looking at your phone. Well, that's what MinuteMan's for! Never get charged again for a full minute after only using seconds. Save minutes and money!
* The MinuteMan application makes every attempt to detect calls made from or received in so-called "away zones" but may not be able to do so for some wireless carriers.
Features:
Configure when MinuteMan kicks in: in roaming or away zones*, or for your international, long-distance, or normal calls. It can be set for any combination of these options, too.
Set how soon you get notified – 5 seconds before the end of the minute, 10, 15 or 20 seconds
Enable or disable end-of-minute notifications
Choose from several notifications – beep, tunes, buzzing
Adjust the beep volume
Advanced: choose not to get notified for the first number of minutes on a call
Advanced: choose not to get notified after a number minutes on a call
Beeps come through the same source as your call – headpiece, speakerphone, or headset

Display Dimensions
240x160, 240x240, 240x260, 240x320, 320x240, 360x400, 360x480, 480x320, 480x360
Operating System
4.5, 4.6, 4.7 Non-Touch, 4.7 Touch Screen, 5.0 Non-Touch, 5.0 Touch Screen, 6.0 Non-Touch, 6.0 Touch Screen

Model:
Blackberry 81XX Series (240*260) Pearl Devices Models: 8100, 8110, 8120, 8130/Blackberry 82XX Series (240*320) Pearl Flip Devices Models: 8200, 8220, 8230/Blackberry 8350i (320*240) Related Devices Model: 8500, 8520, 8530, 9300(Kepler), 9330/Blackberry 83XX Series (320*240) Curve Devices Models: 8300, 8310, 8320, 8330 / Blackberry 87XX Series (320*240) Devices Models: 8700c, 8700r, 8700f, 8700g, 8703e, 8707, 8707g, 8707v .etc /Blackberry 88XX Series (320*240) Devices Models: 8800, 8820, 8830 .etc /Blackberry 89XX Curve Series (480*360): 8900(Javelin), 8910(Atlas), 8930, 8950, 8980/Blackberry 90XX Bold (Onyx) Series (480*320) Devices Models: 9000, 9020(Onyx)/Blackberry 96XX Tour (Niagara) Series (480*360):9600, 9630, 9650(Tour2), 9700(Bold2), 9780 /Blackberry 95XX Storm Series (360*480):9500, 9510, 9520, 9530, 9550(Storm2), 9570(Storm3), 9800(Torch)/Blackberry Pearl 3G Series (360*400) Devices Models: 9100, 9105, 9670(Style)