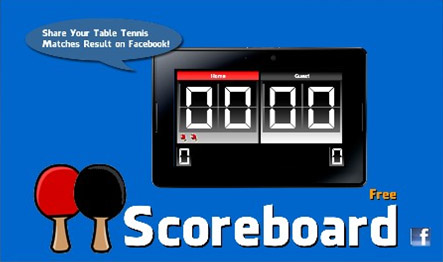 Tag:
TT Scoreboar
Overview :
TT Scoreboard Free v1.1.1 (Table Tennis Ping Pong Scoreboard)
Required Device Software:
Tablet: 2.0.0 or higher

Description:
"TT Scoreboard Free" is an excellent table tennis (Ping Pong) scores tracking application for amateur or professional Table Tennis players and it is FREE!!
It provides the real 'Tournament' table tennis scoreboard feel with detail score and information display
Major Features (Free version)
* By using the micro-HDMI cable you can display scoreboard on large TV
* Share final score on Facebook
Game settings:
Winning Score: 11* / 21 Points
Rotate Serve every: 2* / 3 / 5 Points
Game Type: Single*
Win by 2 Points Yes* / No
* Default setting
Change Log
v1.0
* Initial Release
v1.1.1
* Changed Font / color in app
* Added Facebook integration. Now can share the final score with your friends!