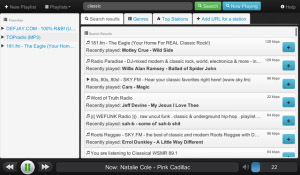 Tag:
Radio Player
Andrei Avram
Overview :
Radio Player v1.2 By Andrei Avram
File Size: 2123 KB
Required Device Software:
Tablet: 2.0.0 or higher

Description:
Radio Player for BlackBerry® PlayBook™ is the best way to listen to your favorite radio stations from all over the world!
It has over 60.000 radio stations.
Transform your tablet in the best radio receiver you ever had!
Features:
- View currently playing song name for each station(when available)
- You can create playlists with your favorite radio stations
- Search radio stations by name
- Search radio stations that currently play the artist or the song you want
- Browse radio stations by 25 musical genres: Alternative, Blues, Classical, Country, Decades(00s,10s,20s,30s,40s,50s...80s,90s), Easy Listening, Electronic, Folk, Inspirational, International, Jazz, Latin, Metal, Misc,New Age, Pop, Public Radio, R&B and Urban, Rap, Reggae, Rock, Seasonal and Holiday(including Christmas music), Soundtracks, Talk, Themes
- Browse stations by sub-genres of the above genres( for example for Seasonal and Holiday you have Anniversary, Birthday, Christmas, Halloween, Hanukkah, Wedding and many more )
- View top listened stations
- Manually add an URL for a station (you can COPY/PASTE the URL)
- No monthly payments
- Free updates for life
- Free unlimited support by email, 24/7
- Also, if you have any problem at all using it, or you would like a feature that is missing just send an email at feedback.radio.player@gmail.com and your problem/request will be solved or you will be REFUNDED.
- Please be supportive towards BlackBerry® PlayBook™ app development and don't leave a bad review before sending an email at feedback.radio.player@gmail.com. THANKS!