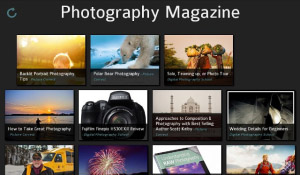 Tag:
photography
Magazine
Overview :
Photography Magazine v2.0 for playbook apps
Required Device Software:
Tablet: 2.0.0 or higher

Description:
Photography Magazine is the best way to keep up to date with photography news on the go! Updated constantly from several different sources, Photography Magazine gets you the latest photography news every time you refresh the app.
Be able to read about topics you care about. Our Magazine series of Blackberry Playbook apps allow you to stay up to date on the latest news on the specified topic.
Features:
- Up to date, get the latest news
- Easy to use, start reading in 2 clicks!
- Fast, get instant access to your favorite articles
- Smooth interface, switch between articles faster than before
If you like Photography Magazine please write a review. Thanks.
This product comes with a 30 day value back guarantee. More info: http://s4bb.com/returnpolicy.