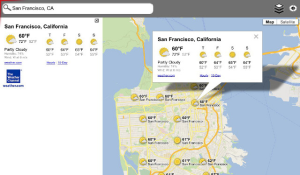 Tag:
Google
WeatherMap
Overview :
WeatherMap with Google v1.1 for playbook applications
Required Device Software:
Tablet: 1.0.0 or higher

Description:
Get Weather information worldwide using Google Weather and Google Cloud Imagery data. Check weather forecasts and climate conditions for any city through this easy to use app. Perfect for travel or local use.
Features:
-WEATHER VIEW
-TRAFFIC VIEW
-TERRAIN VIEW
-PHOTOS VIEW
***NOW IMPROVED***
-Optimized for BlackBerry® PlayBook™
-Weather in Farenheit or Celcius
-Current, Hourly, Ten Day Forecast
-Heat Map for current selection
-Radar Map data
-Humidity, Wind Direction, Wind Speed
*Usage based on Google Maps terms of use:
http://maps.google.com/help/terms_maps.html
*Weather.com data usage based on Weather Channel terms:
http://www.weather.com/common/home/legal.html