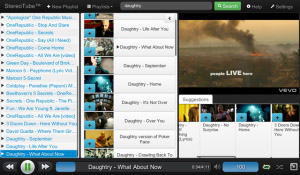 Tag:
StereoTube
Music Player
Overview :
StereoTube v3.0 for YouTube+MP3 Music Player
File Size: 2555 KB
Required Device Software:
Tablet: 2.0.0 or higher

Description:
StereoTube - YouTube+MP3 Music Player is the best way to listen music on YouTube™ and personal mp3s. It supports all the features you would expect to find in a music player, with the difference that you don't need to store anything on your device, you have access to millions of free songs!
You can find any song you would find on YouTube™ and also listen to mp3s stored on your tablet, use them to create playlists which you can listen anytime, anywhere!
Other customers say: "Excellent application", "superb", "this is going to give joy to thousands of people", "easy to use and looks great!","OMG!!..this is a must".
This app has been featured on dozens of sites including: playbookdaily.com, n4bb.com, and many more! Thank you all!
- You can create unlimited number of playlists with unlimited songs in each of them
- Smart search engine that finds only those videos that are relevant to you
- Listen to audio files stored on your tablet: mp3, aac, m4a, wav and wma.
- Mix YouTube™ with your mp3s to create awesome playlists!
- Put your tablet in standby and listen to mp3s! It supports using the hardware buttons: play/pause, volume up/down
- Discover related songs every time you listen to a song
- Search through literally millions of songs, listen for free!
- Very easy to use and intuitive graphical interface(checkout the screenshots).
- Rearrange(sort) songs in playlists
- Shuffle
- Repeat
- You can check it out without worries, if you are not satisfied you will be refunded.
- You will get free updates for life
NOTICE: After the OS 2.1 update, there is an error regarding the update of some apps. It may appear as AppWorld wants to charge you again when an update is available, but it's just an error. Just restart your PlayBook™(click the battery icon and then Restart) and try again, the update will appear correctly, as FREE!!
If you like this app, don't forget to leave a review! It feels good to see our work appreciated and helps other people too!
Changelog:
Version 3.0(27 October):
- revamped UI for selecting mp3s, added duration to searched videos, many small improvements.
Version 2.0:
- added support for local audio files - mp3,aac,m4a,wav,wma.
Version 1.5:
- added improved search engine: 500% faster, finds the best music videos first, more search results(50, sorted by relevance
- added the ability to rearrange(sort) songs: go to Playlists -- Rearrange songs
- increased the responsivity of buttons
- various bugs are fixed
- Also, if you have any problem at all using it, or you would like a feature that is missing just send an email at feedback.stereotube@gmail.com and your problem/request will be solved or you will be REFUNDED.
- Please be supportive towards BlackBerry® PlayBook™ app development and don't leave a bad review before sending an email at feedback.stereotube@gmail.com. THANKS!