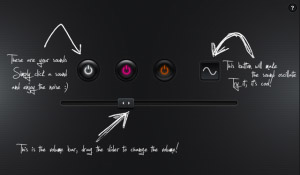 Tag:
SilentNoise
playbook app
Overview :
free SilentNoise v1.0.4 for playbook apps download

Required Device Software: 1.0.0 or higher
Details:
SilentNoise is the perfect tool to help you read, relax, study or sleep by using colored noise to effectively block out background sounds! If your environment is too distracting, having trouble with sleep or you're simply looking for a way to melt all your stress away then try listening to some noise.
★ Choose from White, Pink, or Brownian noise
★ Slide the volume bar to a comfortable level
★ Activate the oscillation for some auditory zen!
★ Stay tuned for lots more features!
◆◆◆◆◆◆◆◆◆◆◆◆◆◆◆◆◆◆◆◆◆
In order to fully enjoy SilentNoise:
• Have the device set on ShowCase, otherwise the sound shuts off when minimized.
• If another application is focused (fullscreen), the device might go into standby; nothing we can do about it unfortunately.
• Update with bug fixes waiting for approval
◆◆◆◆◆◆◆◆◆◆◆◆◆◆◆◆◆◆◆◆◆
For feature requests simply email features@bitboxapps.com with "Request - SilentNoise" as the subject.