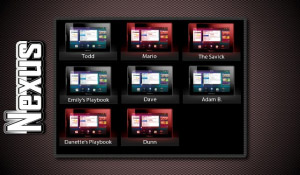 Tag:
PlayBook
Nexus
Overview :
free Nexus v1.3.2 for blackberry playbook apps
Required Device Software:
Tablet: 1.0.8 or higher
Description:
Nexus; the fastest, most convenient way to share files on the BlackBerry® PlayBook™. With this application, you can share your pictures, music, videos, and documents with any BlackBerry® PlayBook™ running Nexus.
When you launch Nexus while connected to your local wireless network, any other BlackBerry® PlayBook™ running Nexus on the same network will automatically appear. Nexus allows you to directly interface with one or more BlackBerry® PlayBooks™ at the same time - No server needed.
To transfer files, follow these easy steps:
1. Tap the icon of the person you wish to share with.
2. Choose a category such as pictures, then tap one or more of the files.
3. Once you have selected all of the files you wish to share, tap Open.
4. This will send a request to the other person, asking if they want to accept the files.
5. Once that person clicks Yes, the file transfer will start automatically.
Please Note: Nexus is designed to automatically connect to other BlackBerry® PlayBook™ on the local wireless network only. Devices such as proxies or firewalls may prevent devices from communicating, so it is always best to be connected to the same wireless network. A network that is broadcasting the same wireless name (SSID).