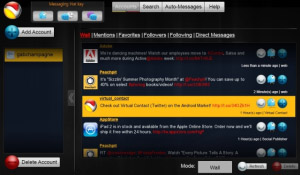 Tag:
Twitter
Virtual Cont
Overview :
Virtual Contact for Twitter v1.2 for blackberry playbook applications
Required Device Software
1.0.7 or higher

Description
Virtual Contact proposes sizable advantages for serious Twitter users.
*Managing multiple Twitter accounts
*Managing automatic tweets (auto-messages)
*URL (link) shortener
*Image and video publishing + URL shortener
*Twitter's internal messaging service (Direct messages, DMs)
*...
We want to develop software that will help make life easier for active Internet users.
We've come to the conclusion that it is the future users of our software who are most qualified to name their own needs.
This is a great opportunity for you to name your own needs and get customized solutions to your problems. All you need to do is follow us on Facebook or Twitter and get involved.