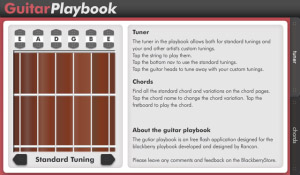 Tag:
Guitar
PlayBook app
Overview :
free Guitar for bb PlayBook apps download

Required Device Software: 1.0.0 or higher
Details:
The only app a guitarist needs!
With over 600 chord variations, all displayed in a format all guitarists can be familiar with, the Guitar for BlackBerry® PlayBook™ allows for all skill levels of performers to improve and practice their craft. This massive dictionary of chords includes audio representations of each chord, allowing you to compare them alongside your own playing.
Custom tune your guitar the way you want, and preview different tunings for all six strings using the unique tuning option - comes complete with it's own library of standard tunings so you can quickly tune your guitar the way you want.
All this is given to you for free.
Enjoy and give feedback for future improvements in the comments section.