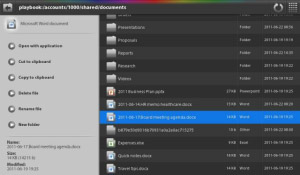 Tag:
Folders
Files
Overview :
Files and Folders v1.0.1 FOR blackberry playbook apps
Description:
Files & Folders is a file manager with integrated Dropbox support. Try it now for free!
With Files & Folders you can manage the content on your PlayBook with ease. You can open, cut, copy, paste, rename and delete your files & folders. You can preview images and text files.
But wait, there's more! Thanks to our virtualized file system, you can manage the files & folders in your Dropbox in (almost) exactly the same way. You can even cut, copy and paste files & folders between your PlayBook and your Dropbox! Dropbox is a free service that lets you bring your photos, docs, and videos anywhere and share them easily. Read more about Dropbox and sign up at www.dropbox.com.
By default we show you your Documents folder, but you are free to explore any area of your PlayBook file system. You can choose any folder as your home folder.
Files & Folders has built-in help and settings screens. Just swipe down for a menu.