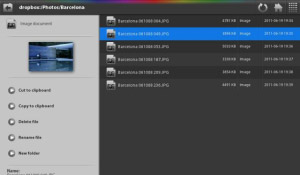 Tag:
Folders
Files
Overview :
Files and Folders v2.1.1 (30 Day Free Trial)
Required Device Software:
1.0.0 or higher
Description:
Files & Folders is a file explorer & manager with integrated Google Docs and Dropbox. Try it now for free!
v1.1 users: Please read the note below!
With Files & Folders you can explore and manage the content on your BlackBerry® PlayBook™with ease:
★ open files with associated app
★ cut, copy, paste, rename and delete
★ show folder in list, icon or thumbnail view
★ preview images and text files
★ view images in the new built-in slideshow
But wait, there's so much more! You can manage the files & folders in Google Docs and in your Dropbox in almost exactly the same way. You can open files directly from Dropbox or Google Docs. You can even cut, copy and paste files & folders BETWEEN your BlackBerry® PlayBook™, your Dropbox and Google Docs! Using Google Docs you can even convert files between many formats on-the-fly. Got a Powerpoint but need a PDF? No problem! Just copy & paste it to Google Docs as a presentation, then copy & paste it back as a PDF.
By default we show you your local Documents folder, but you are free to explore any area of your BlackBerry® PlayBook™ file system. You can choose any folder, including Dropbox or Google Docs, as your home folder. Or start where you were last time.
It's very easy to get started with Files & Folders, but if you ever want to learn more, just swipe down for the menu and tap Help for a user guide.
You can customize many aspects of Files & Folders from the Settings screens.
Like us on Facebook (Files & Folders for BlackBerry® PlayBook™) or follow us on Twitter (@FilesFolders) for news, tips, updates & more!
Recent changes (full release notes are on our Facebook):
v2.1 (August 10th 2011)
maintenance release with minor bug fixes and improvements
v2.0 (August 1st 2011)
- added Google Docs integration
- added thumbnail view
- more icons
- total size of folder display
- startup path improved
- many many other small and larger fixes
v1.2 (July 21st 2011)
- fix for some App World install errors in Playbook OS 1.07.
v1.1 (July 15th 2011)
- open files directly from Dropbox
- enjoy photos with the integrated slide show
which works for Dropbox too!
v1.0 (June 27th 2011)
- initial release
IMPORTANT NOTE FOR V1.1 USERS: Due to a bug in App World, v1.1 users cannot currently upgrade to v1.2 or v2.x. This should be fixed in the next OS update. For more info and a work-around, please see our facebook page or drop us an e-mail: bb.support@innovatology.nl