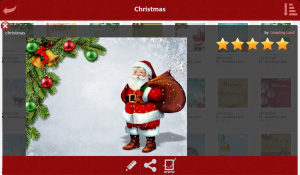 Tag:
Greeting Lan
Overview :
Greeting Land HD v1.0.2 for blackberry playbook applications
File Size: 5640 KB
Required Device Software:
Tablet: 2.1.0 or higher

Description:
Greeting Land is the first of its kind social network for creating and sharing greeting cards in a few easy steps.
Greeting Land is a heir of the popular application for creating and sharing greeting cards for BlackBerry® smartphones - Greeting Cards Maker, providing a lot of new opportunities and improvements.
Create a unique greeting card on your own using the variety of templates and share it to a friend via Facebook.
Share your greeting cards with other users and turn your emotions into a wonderful and unparalleled experience.
Greeting Land starts with more than 500 greeting cards and templates which you can use to create your own greetings.
Also, you can edit and modify greeting cards created by other users.
Features:
* By purchasing Greeting Land you get 100% free access to all resources. No additional charges.
* Browse our collection specials: Christmas, New Year, Love, Miss You, Birthday, Thank You, Friend and many others.
* Import collection from clipart, frames and wishes in English and Spanish.
* Use the photos from your mobile device.
* Add in your own, personalized message.
* Share the greeting card via Facebook.
* You have the option of adding rating to greeting cards that you liked.
* You can review and manage the greeting cards that you created.