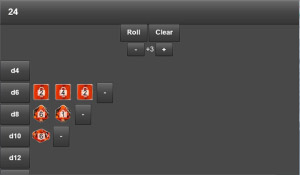 Tag:
Dicebag
playbook app
Overview :
Dicebag v1.0.1 for playbook apps

Required Device Software: 1.0.0 or higher
Details:
The dicebag is a dice simulator for the BlackBerry® PlayBook™ tablet. You can use it to roll various kinds of dice to use in Tabletop roleplaying and boardgames.
It supports the most common dice sizes, and enables rolling multiple dice at the same time.
This app is intended to be used mainly in RPGs, such as Dungeons and Dragons, World of Darkness or Exalted.