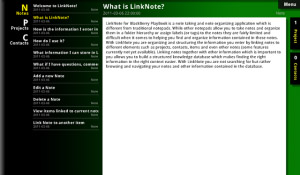 Tag:
LinkNote
playbook app
Overview :
free LinkNote v1.0.4 for playbook apps

Required Device Software: 1.0.0 or higher
Details:
LinkNote for BlackBerry® PlayBook™ is a note taking and note organizing application which is different from traditional notepads. With LinkNote you are organizing and structuring the information you enter by linking notes to different elements such as projects, contacts, items and even other notes (some features currently not yet available). Linking notes together with other information which is important to you allows you to build a structured knowledge database which makes finding the right information in the right context easier. With LinkNote you are not searching for but rather browsing and navigating your notes and other information contained in database.
---------
**UPDATE** We are aware of number of bugs (ex: small font size when entering text, some menus not opening properly, etc.) and are working on update to address these issues as well as bring new functionality very soon. We appreciate your time trying this application and welcome all feedback and suggestions.
***LAUNCH SPECIAL*** For limited time get it for FREE (reg. $4.99)