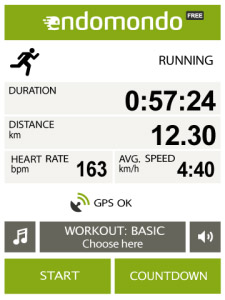 Tag:
Sports
Endomondo
Overview :
Endomondo Sports Tracker PRO v8.6.4 - This is the premium/PRO version of Endomondo Sports Tracker – the app that turns your mobile into a free personal coach and training partner. Using the built-in GPS, Endomondo tracks your running, cycling, hiking, kayaking, skiing - you name it! As a bonus, you get audio feedback while working out.

Version: 8.6.4
File Size: 2 MB
Required: 6.0.0 or higher
Model: Blackberry 96XX Tour (Niagara) Series (480*360):9600, 9630, 9650(Tour2), 9700(Bold2), 9780, 9790, Dakota, Apollo /Blackberry 95XX Storm Series (360*480):9500, 9510, 9520, 9530, 9550(Storm2), 9570(Storm3) / Blackberry Torch Series: 9800(Torch), Torch2, 9810, 9860/Blackberry Pearl 3G Series (360*400) Devices Models: 9100, 9105, 9670(Style)/Blackberry 99XX (OS 7.0) Series (640*480) Devices Models: 9900, 9930, 9981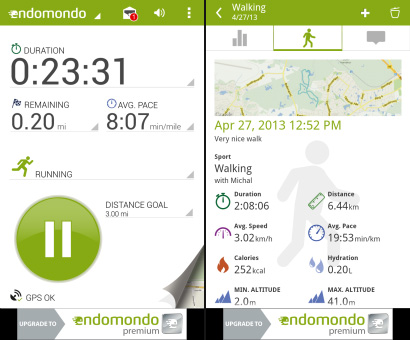 PRO features:
- View graphs with your lap times, heart rate, speed and altitude throughout the workout
- Beat yourself – choose a previous performance as your target and the audio coach will help you perform better this time
- Set a time goal or a calorie goal and the audio coach will help you reach it
- Low power mode: Increase the battery standby time by using this feature for long workouts
Free features:
- Track any outdoor sport including duration, distance, speed and calories
- Get audio feedback for every mile or km while exercising
- Get live peptalks from friends - they write a short text on the web which is then read out loud to you seconds later
- Track your heart rate (see Endomondo.com for supported devices)
- Race against a friend's time and have the audio coach help you perform better
- Compete on a specific route nearby and race against the route champion
- Get instant feedback by tapping your (wired) headset's media button
- Enter workouts manually, e.g., weight lifting or a treadmill run
- View history of workouts and peptalks
- Set the app to pause automatically when you are not moving
- Study split times per km or mile
- See your route on a map
- See a list of friends and their latest workouts
- Use Facebook and/or your phone book to hook up with your friends on Endomondo
- Post workouts to Facebook
- See your friends' latest workouts in real-time
- Peptalk friends and comment on their workouts from the app
- Enable countdown (10, 20 or 40 sec)
- Get instant feedback by tapping your wired headset's media button
- Support for desktop manager media-sync playlists
- Invite BBM contacts (NEW in v1.6.0)
- Share workouts on BBM (NEW in v1.6.0)
With the accompanying free website, www.endomondo.com, you get further analyses, a wide range of social sharing functions (Facebook and Twitter) and the ability to compete against your friends.
NOTE regarding VERIZON: Because of GPS issues, the application is currently not compatible with 8X30 phones running on Verizon.