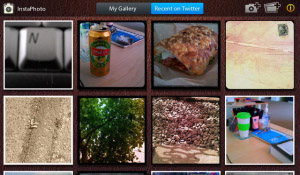 Tag:
InstaPhoto
Overview :
InstaPhoto v1.0.92 for blackberry apps download
Model:
Blackberry 89XX Curve Series (480*360): 8900(Javelin), 8910(Atlas), 8930, 8950, 8980/Blackberry 90XX Bold (Onyx) Series (480*320) Devices Models: 9000, 9020(Onyx)/Blackberry 96XX Tour (Niagara) Series (480*360):9600, 9630, 9650(Tour2), 9700(Bold2), 9780, Dakota, Apollo /Blackberry 95XX Storm Series (360*480):9500, 9510, 9520, 9530, 9550(Storm2), 9570(Storm3), 9800(Torch), 9810/9850/9860(Torch2)/Blackberry Pearl 3G Series (360*400) Devices Models: 9100, 9105, 9670(Style)/Blackberry 99XX (OS 7.0) Series (640*480) Devices Models: 9900, 9930
Description
InstaPhoto for BlackBerry® allows you to choose from a library of 25 preset effects, including tilt shift, custom borders, color effects, grunge textures and decorative frames. It's a simple and easy way to create amazing effects to share with all your friends via Twitter, Facebook or Tumblr!
Alongside the standard effects, InstaPhoto also features unique effects such as a retro-styled poster with radiant rays fanning out to enhance your image, look at the world through a HUD of an aircraft, through the lens of an SLR camera, or create mugshots of you, your friends, and pets! It's easy to get started, and with so many options to choose from, there's something for every occasion.
InstaPhoto also simulates the effect of tilt shift, a process often used to simulate miniature scenes. Choose from a radial or linear distortion, pinch and adjust a simple slider, then tap and let us do the rest! InstaPhoto automatically adds vibrant saturation to intensify the colors to create unique whimsical scenes.
Features:
- Easy to get started, simply choose a preexisting photo or snap one right away. Camera integration runs directly within app, allowing you to take a photo and start instantly!
- Images save to a custom gallery folder, and are featured when you load the app, or you can opt to view the latest uploads on Twitter from your friends!
- Large preview images allow you to see an effect clearly before making a selection.
- Simple controls with stunning pre-set effects, it's easy for anyone to use with just a tap of the finger!
- Quick rending, no long loading times for an effect.
- Unique effects creating interesting themes for your photos; periscope, mugshots, HUDs and many more!

Effect Features:
Tilt Shift
1962 - Simulate the effect of an old, black and white film strip.
Aquarius - Cool green-blue with just a small dash of orange.
Aries - Reds and orange converge for a warm effect.
Black & White
Bohemian - Release your inner flower-child with a decorative border and warm colors.
Burnout - Brightens the center of your image with burnt edges.
Cool Breeze - Light and breezy with cyan tones.
Dusk - Dulls your images colors and adds a touch of grit.
Gothic - Subtle orange and purple splash your image with a night feeling.
HUD - See your image through a heads-up-display in the sky.
Midnight - Intensifies a splash of orange with dark, burnt purple edges.
Mug Shot - Frame yourself, your friends, or your pets!
Noir - Intense blacks in a black and white image.
Number 6 - A playful combination of turquoise and orange with subtle texture.
Periscope - Creates the effect of peering up through a periscope in the night.
Polaroid - Create the look of a polaroid with a slight purple tone.
Ravage - Rough your images up with this effect.
Retro Poster - Grunge edges and rays radiate from your featured image.
Sepia
SLR - View your image as though in the view finder of a SLR camera.
Spotlight - Burns a corner of your image with bright light.
Sunset Swirl - Bath your image in warm color, and adorned with a swirling border.
Taped - Tape up those corners and show off that image!
Torn - Torn and folded, with its colors fading away like an old poster.
Vintage Postcard - Snap a shot on holiday and send off your own vintage postcard! Post is included!
We hope you'll enjoy your experience with InstaPhoto, and we welcome your feedback for future improvements.
If you have any problems getting InstaPhoto running on your BlackBerry, please visit http://support.smarter-apps.com and we will help you to get in on the fun and sharing your photos with all your friends!