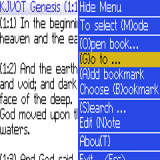 Tag:
viewer
Bible
Noah
Study
Overview :
free Noah Bible Study Viewer v4.3 apps for blackberry

The best Bible application for BlackBerry is once again a step ahead with support for media cards
BEIKS is proud to present the latest and greatest fourth major release of Noah Bible Viewer for BlackBerry phones!
Developed in response to popular demand, the Noah Bible Study Viewer was the first application to address the needs of the Christian community on the BlackBerry mobile platform in a high-quality, professional manner.
Thanks to all registered users Noah continues to lead the forefront of innovations, being the first of its kind to support media cards, hierarchical bookmarks and more!
This fully offline solution lets you install and carry any combination of the available Bible translations into your BlackBerry, making them accessible anywhere you go, coverage or not. Get public domain Bible translations like KJV, ASV, the Spanish Reina-Valera translation and more for free!
All that for just a single, one-time registration fee of $19.95. We try to make it worth!
Get the Bible in your BlackBerry today and enjoy its wisdom any time you want, anywhere you go!
Best of all, you do not have to just take our word for it! Download and preview Noah on your BlackBerry now - trial version downloads are free and let you evaluate the application for full 10 days!
Access multiple Bible translations with simple, intuitive interface
Jump the desired book, chapter and verse within seconds
Quick verse navigator implemented in response to user demand (new to version 4)
Add, list and jump to bookmarks in hierarchical view (new to version 4)
Install Bibles to media card (new to version 4; see OTA installation notes below)
All modern popular copyrighted Bible translations including NIV, NLT, NKJV, ESV, The Message and many more now available through Laridian (new to version 4)
Highlight and copy text
Add custom notes to verses
Slow full text search or very fast indexed token search
Select the output font size
Normal / bold font type modified
Auto scrolling with adjustable speed and direction
Install separate Old and New testament modules or complete mixed books
Access Spanish and Greek translations of the Bible
Read notes under line left from translator
No extra charges for accessing any public domain Bible translations: free is free!
Minimum requirements:
Operating System
4.2, 4.3, 4.5, 4.6, 4.7 Non-Touch, 4.7 Touch Screen
Model:
Blackberry 72XX Series (240*160) Devices Models: 7200, 7210, 7230, 7250, 7270, 7280, 7290, 7510, 7520, 6510/Blackberry 71XX Series (240*260) Devices Models: 7100, 7110t, 7105t, 7100r, 7100v, 7100g, 7100x, 7100i, 7130e, 7130c, 7130g, 7130v/Blackberry 81XX Series (240*260) Pearl Devices Models: 8100, 8110, 8120, 8130/Blackberry 82XX Series (240*320) Pearl Flip Devices Models: 8200, 8220, 8230/Blackberry 8350i (320*240) Related Devices Model: 8500, 8520, 8530, 9300(Kepler), 9330/Blackberry 83XX Series (320*240) Curve Devices Models: 8300, 8310, 8320, 8330 / Blackberry 87XX Series (320*240) Devices Models: 8700c, 8700r, 8700f, 8700g, 8703e, 8707, 8707g, 8707v .etc /Blackberry 88XX Series (320*240) Devices Models: 8800, 8820, 8830 .etc /Blackberry 89XX Curve Series (480*360): 8900(Javelin), 8910(Atlas), 8930, 8950, 8980/Blackberry 90XX Bold (Onyx) Series (480*320) Devices Models: 9000, 9020(Onyx)/Blackberry 96XX Tour (Niagara) Series (480*360):9600, 9630, 9650(Tour2), 9700(Bold2), 9780 /Blackberry 95XX Storm Series (360*480):9500, 9510, 9520, 9530, 9550(Storm2), 9570(Storm3), 9800(Torch)/Blackberry Pearl 3G Series (360*400) Devices Models: 9100, 9105, 9670(Style)