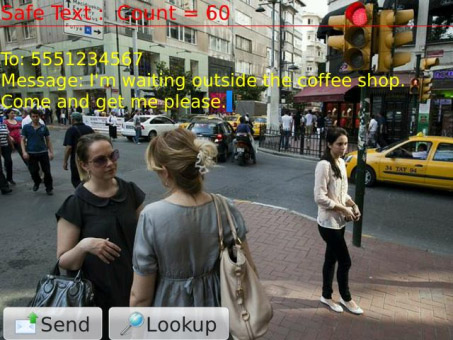 Tag:
Safe Text
Overview :
Safe Text v1.0 is a unique application for the BlackBerry(R) OS7 and higher that will hopefully keep you safe and keep you from running into people, cars, walls, fall into a manholes, trip or any other way you might hurt yourself when you walk and text or email at the same time.
Safe Text uses the BlackBerry(R) built-in Camera to let you see where you are going as you walk and type your message. You can use Safe Text as a standalone application to compose a new text message, compose email or compose a new message from the Contacts, Text, Messages or the Phone application.
Limitations:
- 160 characters SMS limitation
- 1024 characters for email and no support for attachment
- When you type and reach the end of the screen you must hit enter for a new line. Due to the design and limitation.
Features:
- Integrate with the Camera application
- Compose SMS, PIN and Email
- Change text font on the screen
- Change text color on the screen
- Lookup in the Contacts application
- Integrate with Text message, Contacts, Messages and Phone application
- SMS sent is stored in the SMS application
- Cool and fun app to use

File Size: 31 kb
Model: Blackberry 9220, 9300(Kepler), 9320, 9330, 9350, 9360, 9370, 9380, 9620, 9790, 9350, 9360, 9370, 9850, 9860, 9900, 9930, p9981