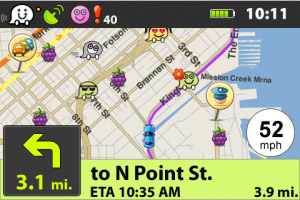 Tag:
Traffic
9981 apps
99xx apps
Waze GPS
Overview :
Waze GPS And Traffic v2.0.2.3 (os5.0 - 7.0) for free blackberry apps download
OS 5.0,6.0,7.0
size:2.63 MB
Model: Pearl 9100 3G, Pearl 9105 3G, Curve 8520, Curve 8530, Curve 8900, Curve 8910, Curve 8980, Bold 9000, Curve 9300 3G, Curve 9330 3G, Tour 9630, Bold 9650, Style 9670, Bold 9700, Bold 9780, Bold 9788, Curve 9350, Curve 9360, Curve 9370, Storm 9500/9530, Storm2 9550/9520, Torch 9850/9860, Torch 9800, Curve 9380, Torch 2 9810, Bold 9900/9930, 9981

Description:
Waze is a social driving and navigation app that connects you to other drivers in order to get all the real-time road information you need. Just by driving around with waze open on your phone, you become part of an active community of drivers, that passively and actively update one another on traffic and other real-time road events. In short, it's super useful and very cool.
+ Enjoy FREE voice-guided, turn-by-turn navigation
+ See real-time traffic, construction, hazards and police traps reported by other wazers
+ Get automatically re-routed based on live road conditions
+ Teach waze your preferred route to frequent destinations
+ Turn your car into a giant 'Road Muncher' and get points for paving new roads as you explore your city
…and because waze is user-generated, the more people who use it, the better (and more addictive) it gets. Take waze for a test drive, and see for yourself!