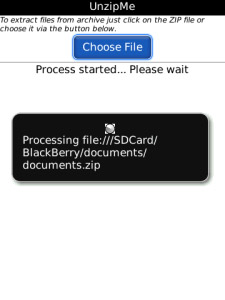 Tag:
UnzipMe
Overview :
UnzipMe 1.0.2 for blackberry apps
OS 4.5,4.6,4.7,5.0,6.0,7.0
size: 388 KB
model: Pearl 9100 3G, Pearl 9105 3G, Curve 8520, Curve 8530, Curve 8900, Curve 8910, Curve 8980, Bold 9000, Curve 9300 3G, Curve 9330 3G, Tour 9630, Bold 9650, Style 9670, Bold 9700, Bold 9780, Bold 9788, Curve 9350, Curve 9360, Curve 9370, Storm 9500/9530, Storm2 9550/9520, Torch 9850/9860, Torch 9800, Curve 9380, Bold 9790, Torch 2 9810, Bold 9900/9930, 9981
Description:
You are in a hurry to review that offer, but it is archived? Or you have received important documents, however in a ZIP archive? No time to get to computer to unzip the archive? No worries - UnzipMe will do the job with just a click! Download the mail attachment and click it (as you do with all usual files) and UnzipMe will do the rest. You will find the extracted files in the same folder as the original archive.
*** If you like this app, please write a review. Thank you! ***
Features:
* Start unzip process with just a click on the zip file
* Choose zip file via user-friendly interface
* Support of all kind of zip archives (nested, folders, multiple files, etc.)
* Fast and error-free processing
* Support of non-ASCII archive names
* Easy to use
You may want to check the full version of UnzipMe
http://appworld.blackberry.com/webstore/content/64227
Additional Features:
* Preserve archive directory structure
* Choose where to unzip
* Create ZIP archive
** Choose archive name
** Choose output folder
** Support of multiple files archive
* One-click installation of COD files
If you like the app, Please share to your friends!