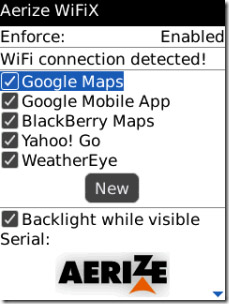 Tag:
9800 apps
Aerize
WiFiX
Overview :
free Aerize WiFiX v1.0.0.0 for blackberry apps downlnoad
Model:
Blackberry 9800(Torch), 9810/9850/9860(Torch2)
Description:
Model:
Blackberry 82XX Series (240*320) Pearl Flip Devices Models: 8200, 8220, 8230/Blackberry 8350i (320*240) Related Devices Model: 8500, 8520, 8530, 9300(Kepler), 9330/Blackberry 83XX Series (320*240) Curve Devices Models: 8300, 8310, 8320, 8330 / Blackberry 87XX Series (320*240) Devices Models: 8700c, 8700r, 8700f, 8700g, 8703e, 8707, 8707g, 8707v .etc /Blackberry 88XX Series (320*240) Devices Models: 8800, 8820, 8830 .etc /Blackberry 89XX Curve Series (480*360): 8900(Javelin), 8910(Atlas), 8930, 8950, 8980/Blackberry 90XX Bold (Onyx) Series (480*320) Devices Models: 9000, 9020(Onyx)/Blackberry 96XX Tour (Niagara) Series (480*360):9600, 9630, 9650(Tour2), 9700(Bold2), 9780, Dakota, Apollo /Blackberry 95XX Storm Series (360*480):9500, 9510, 9520, 9530, 9550(Storm2), 9570(Storm3), 9800(Torch), 9810/9850/9860(Torch2)/Blackberry Pearl 3G Series (360*400) Devices Models: 9100, 9105, 9670(Style)/Blackberry 99XX (OS 7.0) Series (640*480) Devices Models: 9900, 9930
Description:
Aerize let us know about their latest app called WiFiX. It lets you force applications to work over WiFi when it regularly would require a data plan. This means that apps like Google Mobile, Google Maps, BlackBerry Maps, and more can be forced to work over WiFi even if they are not setup to do so.
I can see people who don't have a data plan using this but I would be interested in hearing how you plan on using it. The app is 50% off for a limited time to $4.99 after which it bumps up to full price. It comes with settings preconfigured for
•Google Maps Mobile
•Google Mobile App
•BlackBerry Maps
•Yahoo! Go
•WeatherEye
There is one caveat it will not work with applications that require secure https/SSL connections. The options are configurable from the general BlackBerry options screen so there is no icon for the app. It comes with a 7 day free trial you can pick up at www.aerize.com or from your BlackBerry at m.aerize.com.