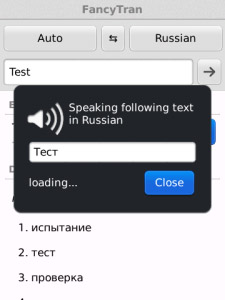 Tag:
bold
curve
torch
Pearl
tour
FancyTran
Overview :
FancyTran v2.0.3 for free apps download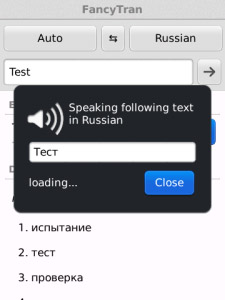 Description
FancyTran is FREE and the most popular multi-engine translator for BlackBerry®.
Currently supports Google and Bing translation engines with Text to Speech pronunciation.
Supports over 60 languages for translation and over 50 for pronunciation.
It has dictionary mode for most languages and providers transliteration for non latin languages.
It automatically checks spelling and also support transliterated input. You can type in any language without need to install keyboard input support.
Touch friendly and clean design and full BlackBerry® integration included.
Translate selected text from any app in one click!

Support of most major BlackBerry® devices (OS 5.0+) including latest OS 7.0 compatibility.
Even more features coming soon.
Follow @demon_xxi for updates and feature requests.
Do not forget to leave your review and ***** stars ;)