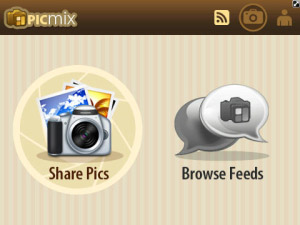 Tag:
PicMix
9981 apps
9788 apps
Overview :
PicMix v1.8.0 for blackberry software free download
OS 5.0,6.0,7.0
size: 1.29 MB
model: Pearl 9100 3G, Pearl 9105 3G, Curve 8520, Curve 8530, Curve 8900, Curve 8910, Curve 8980, Bold 9000, Curve 9300 3G, Curve 9330 3G, Tour 9630, Bold 9650, Style 9670, Bold 9700, Bold 9780, Bold 9788, Curve 9350, Curve 9360, Curve 9370, Storm 9500/9530, Storm2 9550/9520, Torch 9850/9860, Torch 9800, Bold 9790, Torch 2 9810, Bold 9900/9930, 9981
Description:
NEW VERSION PICMIX v1.6: have you upgraded your picmix into version 1.6? you should! because it has more beautiful frames, new features and better connection too!
A picture is worth a thousand words, but multiple pictures in fancy frames and text caption, is worth a MILLION stories and awesomeness. With PicMix, you can combine your favorite photos into frames, adjust the photos, add text caption (just like comic book!) and share it to your friend on facebook, twitter and even set it as your BBM™ profile pictures. Start PicMixing now, its totally FREE and FUN!



If you like the app, Please share to your friends!