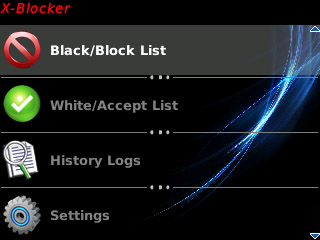 Tag:
X-Blocker
Overview :
X-Blocker v2.0.1 for blackberry apps - X-Blocker is a Call Block / Call Blocker application, which designed to allow you to block or reject any unwanted incoming call perfectly.

Version: 2.0.1
File Size: 407 KB
Required: 5.0.0 or higher
model: Pearl 9100 3G, Pearl 9105 3G, Curve 8520, Curve 8530, Curve 8900, Curve 8910, Curve 8980, Bold 9000, Curve 9300 3G, Curve 9330 3G, Tour 9630, Bold 9650, Style 9670, Bold 9700, Bold 9780, Bold 9788, Curve 9350, Curve 9360, Curve 9370, Storm 9500/9530, Storm2 9550/9520, Torch 9850/9860, Torch 9800, Bold 9790, Torch 2 9810, Bold 9900/9930, 9981



With X-Blocker, it provides you with both Blacklist and Whitelist to define which numbers would like to reject or accept. Of course, you are able to block all incoming calls when you are busy or taking rest.
Different Calls Reject Modes and Blocked Notification are available.
For more flexibility, it also includes Auto Text feature to help you reply SMS automatically. Also, X-Blocker let you schedule the blocking time duration to define which period of time you would like to block calls.
No more disturbance from unwanted incoming call, private or unknown call, and telemarketers now!
FULL FEATURES:
1) Blacklist and Whitelist are available
2) Block All the incoming calls when you are busy or taking rest.
3) Block Private or Unknown calls made by telemarketers.
4) Feature to accept phonebook number only.
5) Different calls rejection modes are available
6) Icon and LED Notification to inform you once it has blocked the incoming call.
7) Blocking time schedule to define the blocking days or time.
8) Password Protection to restrict other people from accessing the X-Blocker.
9) Auto Text feature to help you reply text message to the callers.