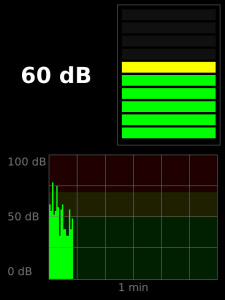 Tag:
Noise Meter
Overview :
free Noise Meter v1.2.0 for blackberry apps
size: 15 KB
model: Curve 9350, Curve 9360, Curve 9370, Torch 9850/9860, Curve 9380, Bold 9790, Torch 2 9810, Bold 9900/9930, 9981
Description:
The Noise meter records sounds in the vicinity of the device and calculates their levels in decibels.
The sound level depends on the distance between the sound source and the place of measurement, and varies slightly among different devices due to their microphone characteristics.
Bear in mind that it is impossible to reduce the sound pressure and sound intensity to zero, unless you go to a vacuum, because of the thermal motion of molecules.
Here are some referential ratings:
Loud noise ... 80 dB
Vacuum cleaner ... 70 dB
Conversation ... 60 dB
Average home ... 50 dB
Quiet library ... 40 dB
Quiet bedroom at night ... 30 dB
Sound of breathing at 1 m distance ... 25 dB
If you like the app, Please share to your friends!