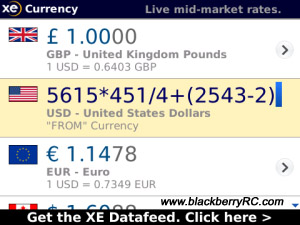 Tag:
9300 apps
XE Currency
9500 apps
Overview :
XE Currency v2.0.1 for blackberry apps os5.0
Model: Pearl 9100 3G, Pearl 9105 3G, Curve 8520, Curve 8530, Curve 8900, Curve 8910, Curve 8980, Bold 9000, Curve 9300 3G, Curve 9330 3G, Tour 9630, Bold 9650, Bold 9700, Storm 9500/9530, Storm2 9550/9520

Description:
** We are aware of a number of users who are reporting issues with version 2.0.x which we are currently investigating. We are currently working to address these issues and hope to have an update available shortly. **
Convert 180+ currencies on-the-go with the XE Currency converter for BlackBerry by XE.com. With live up-to-the-minute rates, this currency calculator is simple, powerful, and FREE! With over five million downloads, XE Currency has been featured by the BBC, the LA Times, CNN, and The Travel Channel!
Live currency rates & charts
- 180+ world currencies and precious metals
- Monitor up to 10 currencies at a time
- Access currency charts to see historic rates
- View multiple time frames in charts
- Easily switch your base currency
- Trusted by millions of people
Personalize your settings
- Auto-update rates at different intervals
- Select your connection method
- Choose how many decimals are shown
Use it off-line
- Store the last updated rates
- Convert prices in remote areas
Discover more features - get the XE Currency App!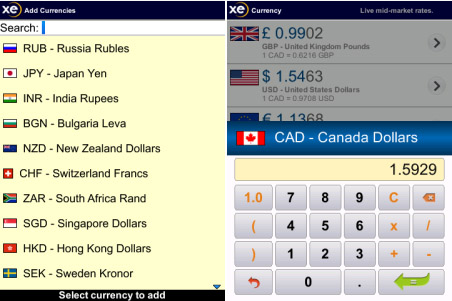 Item QR Code: