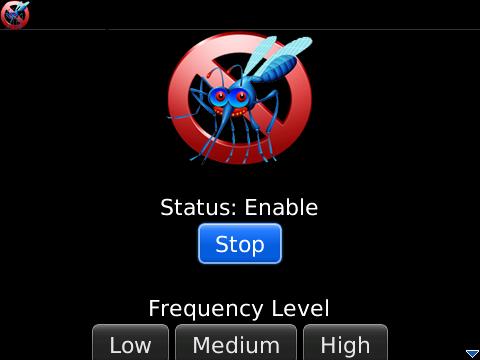 Tag:
Anti Mosquit
Overview :
Anti Mosquito Pro v1.0.0 for blackberry apps
OS 4.5,4.6,4.7,5.0,6.0,7.0
Model: Pearl 8100, Pearl 8110, Pearl 8120, Pearl 8130, Pearl Flip 8220, Pearl Flip 8230, Pearl 9100 3G, Pearl 9105 3G, Curve 8300, Curve 8310, Curve 8320, Curve 8330, Curve 8350i, Curve 8520, Curve 8530, 8700, 8707, 8800, 8820, 8830, Curve 8900, Curve 8910, Curve 8980, Bold 9000, Curve 9300 3G, Curve 9330 3G, Tour 9630, Bold 9650, Style 9670, Bold 9700, Bold 9780, Bold 9788, Curve 9350, Curve 9360, Curve 9370, Storm 9500/9530, Storm2 9550/9520, Torch 9850/9860, Torch 9800, Bold 9790, Torch 2 9810, Bold 9900/9930, 9981

Description:
Do you know only female mosquitoes bite?
Do you know female mosquitoes only bite when they are being pregnant?
Anti Mosquito Plus turns your BlackBerry® device into Mosquito Repeller. It mimics male mosquito and dragonfly (mosquito natural enemy) sound frequencies that keeps you away from biting pregnant female mosquitoes.
Anti Mosquito Plus allows you to play sound frequency with your own music at background, or in energy-saving sleep mode. It provides selection of sound frequency to be played, a) male mosquito only, b) dragonfly only, or c) both.
Scientific Information:
A) Male mosquitoes do not bite, only female mosquitoes bite. Female mosquitoes normally bite during their spawning period, at this time they do not like being approached by male mosquitoes. They will stay away once they hear male mosquitoes flying sound frequencies.
B) Dragonflies are the mortal enemy for mosquitoes and in flight they generate sound frequencies. When dragonfly wing's sound appears in the air, female mosquitoes will stay away from it too.
Features:
- 2 mosquito repell sound frequencies - male mosquito, and dragonfly.
- 3 sound frequencies to be chosen - male mosquito, dragonfly, and both male mosquito & dragonfly.
- Volume control for sound frequencies.
- Easy to use one page only selection.
Notice: Use at your own risk. Hiratte Software Solution is not responsible for any human rights violation usage, and any other impacts. Result may vary on different devices.