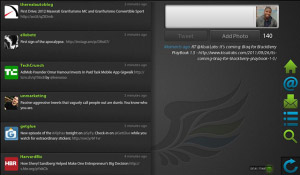 Tag:
PlayBook
Blaq
Overview :
Blaq v1.7.1.273 for BlackBerry PlayBook Applications
Required Device Software:
Tablet: 1.0.0 or higher
Description:
Introducing Blaq for BlackBerry® PlayBook™
The one BlackBerry® Twitter app you simply couldn't keep your eyes off of is now the first and only Twitter app worth your time and money on the BlackBerry® PlayBook™ tablet.
With a sleek, sexy interface and stunning design, Blaq is not only worth a look, it's a staple for any seriously social BlackBerry® PlayBook™ user.
Don't be caught using the tenuously featured Twitter® mobile web while your friends are getting the most from their BlackBerry® PlayBook™ Twitter® experience.
Download Blaq for BlackBerry® PlayBook™ today!
Features:
* Beautiful, intuitive user interface
* REAL-TIME Twitter userstream support
* Most Customizable
* Native notifications
* Translate tweet
* Native or editable retweet support (hold down on RT to edit)
* Reply all (Hold down on Reply icon)
* In-app notifications
* Username auto-completion
* Full user profile view
* Web and image previews within Blaq
* View your lists curated from Twitter.com
* Multi-account support
* Search people and tweets
* In-app support for all 211 embed.ly services (YouTube, Tumblr, Posterous, SoundCloud, etc.) - Full list here: http://api.embed.ly/
* URL shortening with the custom bl4q.me shortener, bit.ly or Twitter
* Photo posting - Twitter, TwitPic, Img.ly or yFrog

Come on, download this apps for your blackberry playbook.