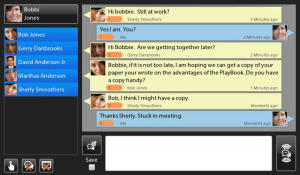 Tag:
Panda p2p
Overview :
Panda p2p v1.4.5.101 for blackberry playbook apps
Required Device Software:
Tablet: 1.0.3 or higher
Description:
Panda p2p is a "person-to-person" (or peer-to-peer) chat application. No servers, no Internet, no logins, no buddy lists. Anyone with Panda p2p on your Local Area Network (LAN) will automatically appear and you can group or individually chat with those neighbors. LAN's can be found at home, work, coffee shops, airports or anywhere else that has WiFi that defines a local network that the BlackBerry® PlayBook™ is connected to.
*** Panda p2p DOES NOT allow you to chat to other social networks or chat systems. It is an auto discovery local network application to interact with co-workers or in social areas that have a LAN WiFi that the BlackBerry® PlayBook™ is connected to. ***
Features:
* Auto discovery presence of device on LAN.
* Easy identification includes first and last name and photograph.
* Group chat.
* Individual chat.
* Chats received count indicator.
* Ignore certain people to send and receive chats.
* Ability to blacklist selected devices.
* Auto save and recall of frequent messages.
* Dynamic change of identity and broadcast.
* Audible alerts from new messages, neighbors entering and leaving, and identification changes.
* Option to remove older messages after a period of time.
* Option to remove messages when a neighbor leaves.
* Quick audible on and off toggle.
* Dynamically updates labels based on device language settings.