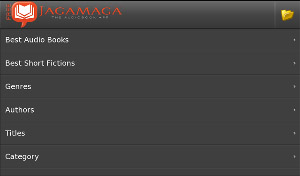 Tag:
eBook
Jagamaga
Audiobooks
Overview :
FREE Jagamaga Audiobooks v1.1.6 apps for blackberry playbook
Required Device Software
Tablet: 1.0.0 or higher

Description:
Hundreds of high quality audio books of iconic classics. Good sound, easy downloading and optimal performance on BlackBerry® devices, this app provides a superior mobile audio book experience. All audiobooks are included with the app purchase.
The only app that offers curated Public Domain audio books:
Now, professionally mastered, the noisless, full and rich sound of these audio books is pleasure for the ears. Each chapter is carefully edited to ensuring interruption-free listening. Easy access to outstanding LibriVox.org productions and free frequent catalog updates.
This large catalog sets a new standard for Public Domain audio books.
Over 200 Titles…plus hundreds of short works:
Download individual chapters Over the Air or complete books on WiFi. Please make sure you have sufficient memory left on your device. Single chapters require 4-12 MB of memory, entire audiobooks up to hundreds of MB.
Never before have audio books from Public Domain sources been so enjoyable.
Key Features:
+ The only app that offers professionally curated LibriVox audiobooks.
+ Instant access to outstanding productions.
+ Professionally mastered Public Domain audiobooks.
+ User-friendly interface.
+ Dynamic catalog updates with new free content.
+ Over 200 titles…plus hundreds of free short works.
+ Smaller files for fast downloading and wireless access.
+ Carefully denoised and edited for undisturbed listening.
+ Browse by genre, title, author, and narrator.
+ BlackBerry®-optimized file format.
Available titles:
Gullivers Travels, by Jonathan Swift
Sherlock Holmes, by Sir Arthur Conan Doyle
Alice in Wonderland, by Lewis Carroll
Huckleberry Finn and Tom Sawyer, by Mark Twain
The Art of War, by SunTze
Moby Dick, Herman Melville
Emma, Pride and Prejudice and Sense and Sensibility, by Jane Austen
Odyssey, by Homer
A Tale of Two Cities, by Charles Dickens
The Call of the Wild, by Jack London
Treasure Island and Dr Jekyll & Mr Hyde, R.L. Stevenson
The Jungle Book, Kim and The Just So Stories, by R. Kipling
Sleepy Hollow
Robinson Crusoe
The Wonderful Wizard of Oz
The Wind in the Willows
The Bible
Railway Children
A Study in Scarlet
The Murders in the Rue Morgue
The Adventures of Around the World in 80 Days
Heidi
The Last of the Mohicans
A Little Princess
Lost World
The Princess and the Goblin
The Pathfinder
Pollyanna
The Prisoner of Zenda
The Swiss Family Robinson
The Secret Garden
The Story of the Treasure Seekers
Kim
Lord Jim
The Man in the Iron Mask
The Red Badge of Courage
City of God
The Canterville Ghost
A Christmas Carol
The Devils Pool
The Diary of a Nobody
Great Expectations
Heart of Darkness
Jane Eyre
Little Women
Lilith
Metamorphosis
Northanger Abbey
Persuasion
The Picture of Dorian Gray
The Prince and the Pauper
Rumpelstiltskin
The Return of the Native
Tess of the d Urbervilles
Tristan and Iseult
Uncle Toms Cabin
Beowulf
Ben-Hur