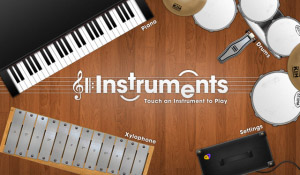 Tag:
PlayBook
Instruments
Overview :
Instruments v1.0.4 for blackberry playbook apps
Required Device Software
Tablet: 1.0.0 or higher

Description:
Anyone can become a musician with Instruments. Practice your skills and impress your friends on a piano, drum kit or xylophone, designed specifically for the BlackBerry® PlayBook™.
Instrument features:
Volume - adjust the level of each instrument to suit your audience.
Sustain - adjust the length of the notes played by each instrument.
Pan - adjust the stereo output of each instrument.
Instruments is a must for anyone, from the tone-deaf to music making enthusiasts, budding musicians to expert instrumentalists.
Download Instruments now and start playing today!