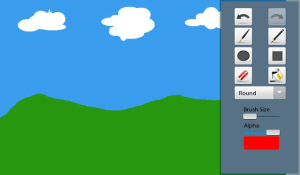 Tag:
PlayBook
Painter
Touch
Overview :
free Touch Painter Lite v1.4.2 apps for playbook

Description
Touch Painter Lite is a free, feature limited version of Touch Painter. If you enjoy the Lite version please support our efforts and buy the full app for $0.99.
Touch Painter for the BlackBerry® PlayBook™ allows you to take the fun of finger painting with you anywhere you go.
Lite version features include:
- Change brush size and transparency
- Various brush shapes
- Rectangle and Circle brushes.
- Flood Fill
- Undo/Redo
- Wide range of colors to choose from.
- Integration with Camera and Camera Roll.
Features removed in the Lite version:
- Saving/Loading of drawings
- Saving image to Camera Roll
- Uploading to Facebook