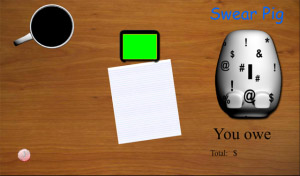 Tag:
Pig
Touch
Swear
Overview :
Swear Pig Touch v1.1.2
Required Device Software: 1.0.0 or higher
Description:
Here is the Swear Pig for the BlackBerry® PlayBook™. Same idea as the Swear Pig for BlackBerry® smartphones except designed for the PlayBook™. Every time you swear pick up a coin, drag it over aand drop it into the Swear Pig. Use the sticky notes on the vertual desk to keep reminders for yourself and doodle on the scrap paper provided.