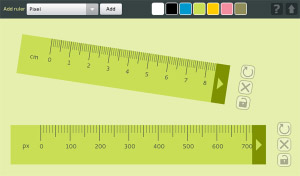 Tag:
Ruler
Overview :
Ruler v1.0.4
Required Device Software: 1.0.0 or higher
Description:
A simple ruler for BlackBerry® PlayBook™ with multiple units of measurement, such as: cm, inches, point, or, ligne or even etzbah!
You can drag, rotate, and put multiple rulers anywhere on your screen.
Able to measure unlimited length by dragging and lengthening the ruler.
Support transparent background, so you can measure everything on your screen.