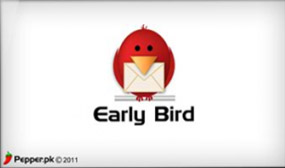 Tag:
PlayBook
bird
Early
Email Apps
Overview :
Early Bird for BlackBerry PlayBook Email Apps

Required Device Software: 1.0.0 or higher
Details:
Early Bird is a simple, robust and beautifully designed native email application for the Blackberry Playbook. Early Bird is written for the Blackberry QNX operating system and unlike browser based email, runs locally on your Playbook. This means that you can store, read and respond to email even when you don't have internet connectivity. For example, when you're 30,000 feet in the air.
Early Bird is designed to be lightweight and FAST. At a mere 6MB in size, it'll run faster than a speeding bullet without consuming much of your Playbook's storage or memory.
Early Bird supports the industry standard POP and SMTP protocols. This allows you to access popular email services like Gmail, Yahoo Mail!, Microsoft Exchange via POP and most ISP provided email accounts. The sortable Inbox view lets you list messages by date, sender or subject. And you can quickly view selected emails in the message view pane