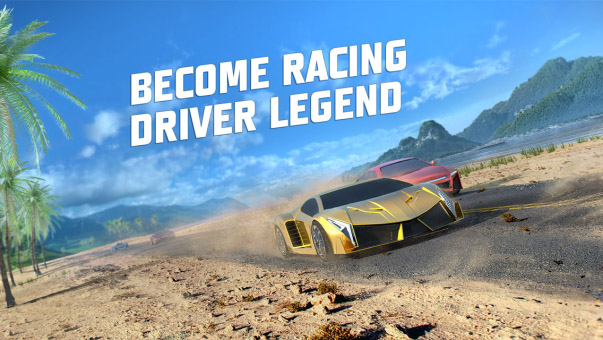 Tag:
3D
Racing
Overview :
First time Unique Arcade Racing Experience available on mobile devices.Test your skills driving plenty of cars on completely different tracks. Don't wait and Download NOW!
Features included:
- drive fight and win on 16 completely different tracks
- many unique cars to drive and crash
- upgrade your car and become fastest driver on earth
- buy better car parts and crush the competition
- customize car according to your driving style
- collect items on track and use them in the garage
- unique merge of racing and collection
- incredible speed feeling
- normal race duel elimination and checkpoints
- several game modes to play
- challenging AI to beat
- become unique on the track by respraying your car
- race through cities and jungles
Start your career in real racing on asphalt tracks - start engine and start winning fame and glory.
Feel truly need for speed and let yourself lost in amazing experience of newest racer on the market.
Explore beautiful environments with beaches palms cities and danger turns. Rise to the top in the auto and motorsport race series. With determination chase fast the highest ranks in real racing world. Your need for speed should be fulfilled with this amazing rally title. Doesn't matter if you like shutter or asphalt races - you will find enjoyment anyway.
Fast run through the race allows you to have hope being at the top of the rank. Push the limits - rush the traffic and pursuit greatness.
Most wanted cup from racing world could be yours just accelerate and compete in real racing experience the taste of racing emotions.
Become fast and become furious during race this will bring you the fortune on the track and worship of the crowds. Participate in fast race and own the competition by effective speed race. Perform car chase by fast racing on asphalt tracks. If you desperately need for speed you'll be satisfied by features found in this free best racer ti
tle. Car chase around the corner.



Supported Devices:

BlackBerry Passport

BlackBerry Q10

BlackBerry Q5

BlackBerry Z10

BlackBerry Z3

BlackBerry Z30

Porsche Design P9982

Porsche Design P9983