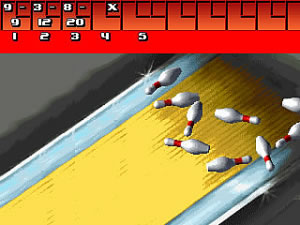 Tag:
Bowling
torch games
9800
Superstars
Overview :
Bowling Superstars for 9800 torch games
Model:
Blackberry 95XX Storm Series (360*480):9500, 9510, 9520, 9530, 9550(Storm2), 9570(Storm3), 9800(Torch), Torch2
Description:
Play as any member of an elite international group of professional bowling celebrities on their journey around the world to compete for the coveted Golden Ball!

The game blends styling and atmosphere with dramatic, rewarding, skill-based and rock-star attitude gameplay, offering mobile players everywhere a fun and addictive mobile bowling game.
Get your fix of bowling "On-The-Go"!
GAME FEATURES:
* With the new and revised one-finger play, a variety of locations
and player selections, unlockable features, live multiplayer or tournament options, Bowling
Superstars is better than ever!
* Satisfying & unique multi-click single-finger bowling gameplay.
places SKILL over chance; 1-finger gameplay ensures players of all skill levels can enjoy the
game.
* Play in four single-player modes: QuickPlay (5 frames), World cup (7x10 frame matches),
Duckpins (10 frames), or Precision (5 frames).
* Play Hotseat multiplayer (10 frames/pass the phone)
* Top-level game presentation with dramatic elements and visual rewards for good performance.
* Minimum 4 unique characters; both male & female genders represented in realistic style.
* Unlock new characters and lanes by successfully completing challenges!
* Compete in a variety of lanes: Big Shot Bowling, Taj Mahal Lanes, BBL Centre,
Bowlingspielgasse, Brasileira de Boliche, The Coliseum, and Elementary Star Lanes!