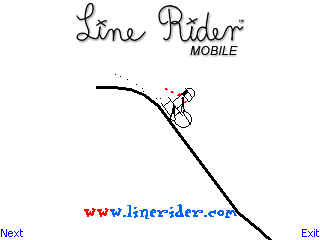 Tag:
9700 games
LineRider
Overview :
Model:
Blackberry 8350i (320*240) Related Devices Model: 8500, 8520/Blackberry 83XX Series (320*240) Curve Devices Models: 8300, 8310, 8320, 8330 / Blackberry 87XX Series (320*240) Devices Models: 8700c, 8700r, 8700f, 8700g, 8703e, 8707, 8707g, 8707v .etc /Blackberry 88XX Series (320*240) Devices Models: 8800, 8820, 8830 .etc /Blackberry 89XX Curve Series (480*360): 8900(Javelin), 8910(Atlas)/Blackberry 90XX Bold (Onyx) Series (480*320) Devices Models: 9000, 9020(Onyx)/Blackberry 96XX Tour (Niagara) Series (480*360):9600, 9630, 9650(Tour2), 9700(Bold)
Description:
Line Rider is an internet physics toy. Versions are available for Microsoft Silverlight and for Flash. It was originally created in September 2006 by Boštjan Cadež (also known as "fšk"), a Slovenian university student. Originally appearing on DeviantArt on September 23, 2006, Line Rider quickly became an internet phenomenon.
Line Rider is featured by several websites, such as Yahoo! but is mainly used on the website Linerider.com, Time Magazine's website and has appeared in several McDonald's commercials. Line Rider was also selected by staff and voted by users as the Best Webtoy of 2006 in the Jay is Games polls. A two-page article about the game was published in Games for Windows: The Official Magazine.