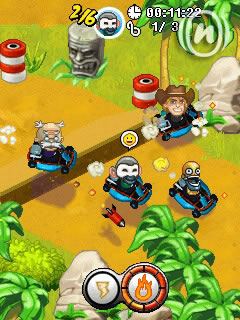 Tag:
Racing
Smash
storm games
Kart
Overview :
Smash Kart Racing for 9500 storm games
Model:
Blackberry 95XX Storm Series (360*480): 9500, 9510, 9520, 9530
Description:
Race for gold in up to 9 different cups! Slide, smash and bounce your way past a pack of wacky characters on 12 unique tracks in 3 wild worlds of ice, sand and zero gravity! Launch 7 spin-out inducing power-ups like fireworks and snowballs and then wave good-bye to your opponents as you hit the nitro boost and speed to victory!