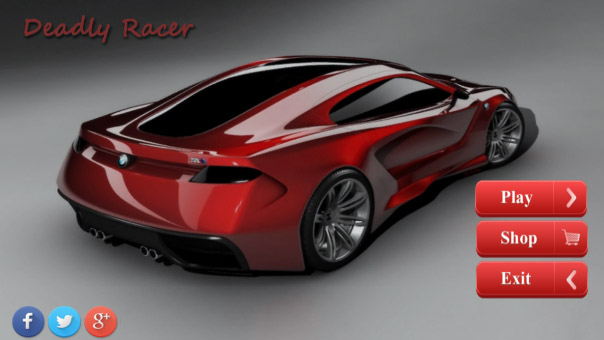 Tag:
Racer
Deadly
Overview :
Deadly Racer is very unique and interesting 3d racing game.It must be very exciting and both dangerous to weave through the traffic. Then, do you like to have such adrenalin without any danger? Deadly Racer has been developed as an ambitious game to make you feel this excitement and make your free time valuable.You can choose one of the fastest cars which suits you best, and increase maneuver, acceleration and brake capabilities.You can get more credits and scores as long as you do not make accident along challenging highway, then you can use this credits to get new cars and modify them.
Game Tactics :
- Try to destroy traffic vehicles to earn score and unlock advance fire system less cars.
- Try to avoid accidents and collisions with other vehicles that will reduce your heath.
- The more you cover distance then more score you get.
- The more you drive at high speed the more score you get.
- Do not forget to use brake to get rid of accidents.
- Try to use Drift or skiding for better fire point and score.
Game Features:
•Endless track with multiple traffic vechiles.
•You can choose different Cars and fire system.
•You can play simply using tilt for left and right along with brake and fire button.
•Game reality is very different from other racing games.
•There are 10 different cars and different fire system options.
•There is automatic acceleration and steering with tilt.
• Smooth and realistic car handling with Stunning 3D graphics.
Supported Devices:
BlackBerry Z10
BlackBerry Z3
BlackBerry Z30
PlayBook