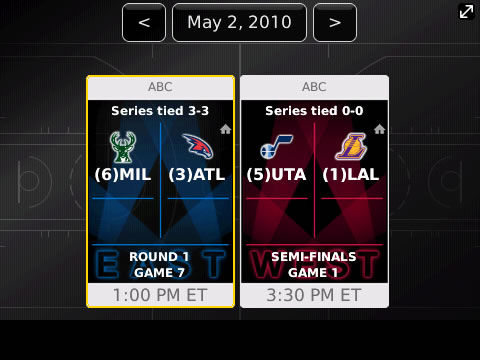 Tag:
NBA
storm games
PLAYOFF EDIT
Overview :
FULL VERSION NBA GAME TIME PLAYOFF EDITION 2010!
UPDATED TO V1.2.2 WITH PLAYOFFS FROM MY OUTDATED POST
lots of requests for this version. must have for the playoffs, they have added play by play!

*pulled from my storm but im pretty sure its for all blackberrys. bought off of app world
NBA fans now have an exciting new way to follow the action live! NBA Game Time, is the new live scoring and multimedia app for the 2009-10 NBA season.
In addition to live scores, stats, and standings for every game, this official NBA paid App lets you listen to live game radio broadcasts for both home and away teams and watch NBA TV-produced video recaps.

Features for 2009-10 Season:
LIVE Home and Away Radio from Every Game
Game Previews and Summaries
Team Rosters and Player Search
Detailed Player Cards
Daily League Leaders
League News from NBA.com
Other In-Game Features:
LIVE Scores
LIVE Stats for Teams and Players
Quarter-by-Quarter Scoring
Game Clock
Starting Lineups
Additional Features:
Video Highlights from Every Game.
Full-Season Schedule
Schedule Picker by Team
Conference, Division, and Overall standings
Twitter? updates from the NBA's official feed!

Model:
Blackberry 95XX Storm Series (360*480):9500, 9510, 9520, 9530, 9550(Storm2)