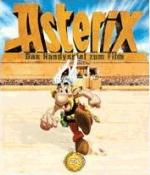 Tag:
Asterix
Overview :
Model:
Blackberry 89XX Curve Series (480*360): 8900(Javelin), 8910(Atlas)/Blackberry 90XX Bold (Onyx) Series (480*320) Devices Models: 9000, 9020(Onyx)/Blackberry 96XX Tour (Niagara) Series (480*360):9600, 9630, 9650(Tour2), 9700(Bold)
Description:
Join your favourite Gaulish duo Asterix and Obelix as they compete in Greece to win the hand of Princess Irina for Lovestorix. Play through their exploits in Adventure mode on the streets of Athens.
Qualify for the final via exciting events such as menhir, disk, 1500m and long jump, before the thrilling chariot race to determine the winner of the events and Irina's heart. Experience the universe of the film on mobile with Asterix: The Official Mobile Game of the Movie!