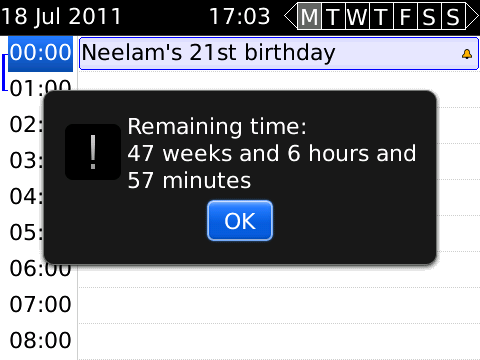 Tag:
pearl apps
Rendezvous
Overview :
free blackberry apps : Rendezvous apps for blackberry
Rendezvous: an Essential Calendar Extension Tool.
Always know how much time you have left to get things done. Rendezvous acts as an extension to the default calendar on your BlackBerry device. It fills the demand for two functions which your calendar (and many other third-party calendars) cannot currently pursue. This application tells you the time remaining until your calendar events happen (or how much time has elapsed since they have happened) in years, months, weeks, days, hours, minutes and seconds; you can even customise which of these to show and which not to show. As well as this, it comes with a "Jump By..." function, which lets your calendar time jump by a certain amount into the future, again eliminating the need to count. This application saves time and is especially recommended for those who use the calendar frequently.
Once you install the application, you should see two new menu items (at the very top) in your native BlackBerry calendar. Rendezvous does not modify any data on your BlackBerry and will not affect syncing or any other calendar functions. Its functions are only executed on request and it remains idle during all other times.
The information displayed is 100% precise (and leap years are accounted for) whether your event is in the future or in the past;
Integrates directly onto the default calendar on your BlackBerry, so you don't have to worry about exporting and importing your events;
The "Jump By..." feature sets your calendar's date to that a certain number of days/weeks/months/years ahead, so you don't have to manually count;
You can customise which time fields are displayed. For example, if you prefer working with days instead of months (or hours instead of weeks etc.), you have the ability to do so;
You can customise how many time fields are displayed. For example, if your event is 2 months, 3 days, 4 hours, 26 minutes and 42 seconds away, instead of having all time fields displayed a significant number can be set, which shows the highest time fields; in the above example, if I set this to 2 then "2 months and 3 days" will be shown.
Display Dimensions
160x160, 240x160, 240x240, 240x260, 240x320, 320x240, 360x400, 360x480, 480x320, 480x360
Operating System
4.5, 4.6, 4.7 Non-Touch, 4.7 Touch Screen, 5.0 Non-Touch, 5.0 Touch Screen, 6.0 Non-Touch, 6.0 Touch Screen
Model:
Blackberry 71XX Series (240*260) Devices Models: 7100, 7110t, 7105t, 7100r, 7100v, 7100g, 7100x, 7100i, 7130e, 7130c, 7130g, 7130v/Blackberry 81XX Series (240*260) Pearl Devices Models: 8100, 8110, 8120, 8130/Blackberry 82XX Series (240*320) Pearl Flip Devices Models: 8200, 8220, 8230/Blackberry 8350i (320*240) Related Devices Model: 8500, 8520, 8530, 9300(Kepler), 9330/Blackberry 83XX Series (320*240) Curve Devices Models: 8300, 8310, 8320, 8330 / Blackberry 87XX Series (320*240) Devices Models: 8700c, 8700r, 8700f, 8700g, 8703e, 8707, 8707g, 8707v .etc /Blackberry 88XX Series (320*240) Devices Models: 8800, 8820, 8830 .etc /Blackberry 89XX Curve Series (480*360): 8900(Javelin), 8910(Atlas), 8930, 8950, 8980/Blackberry 90XX Bold (Onyx) Series (480*320) Devices Models: 9000, 9020(Onyx)/Blackberry 96XX Tour (Niagara) Series (480*360):9600, 9630, 9650(Tour2), 9700(Bold2), 9780 /Blackberry 95XX Storm Series (360*480):9500, 9510, 9520, 9530, 9550(Storm2), 9570(Storm3), 9800(Torch)/Blackberry Pearl 3G Series (360*400) Devices Models: 9100, 9105, 9670(Style)