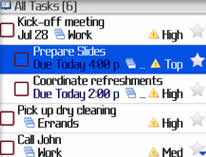 Tag:
TaskJot
Overview :
free blackberry apps : TaskJot apps for blackberry
TaskJot is the easiest to use, most convenient Blackberry® to do list program available today. Use TaskJot by itself or let it automatically sync your task list changes with your online Toodledo.com account so you have your to do list everywhere you need it.
What TaskJot can do:
Tasks, SubTasks, and Notes
Create a task for each of your to do list items. Create sub-tasks to break your task list down into small manageable pieces.
Contexts, Folders, and Goals
Use Contexts, Folders, and Goals to keep your to do list organized and easily referenced.
Sorting & Searching
Choose the sorting option that works best for you! Every view of your task list will use the sorting rules you prefer.
Toodledo.com and Blackberry Application Sync
Stay in sync with your Toodledo.com account. Your to do list will change in both places when you edit it in either place.

Model:
Blackberry 71XX Series (240*260) Devices Models: 7100, 7110t, 7105t, 7100r, 7100v, 7100g, 7100x, 7100i, 7130e, 7130c, 7130g, 7130v/Blackberry 81XX Series (240*260) Pearl Devices Models: 8100, 8110, 8120, 8130/Blackberry 82XX Series (240*320) Pearl Flip Devices Models: 8200, 8220, 8230/Blackberry 8350i (320*240) Related Devices Model: 8500, 8520, 8530, 9300(Kepler), 9330/Blackberry 83XX Series (320*240) Curve Devices Models: 8300, 8310, 8320, 8330 / Blackberry 87XX Series (320*240) Devices Models: 8700c, 8700r, 8700f, 8700g, 8703e, 8707, 8707g, 8707v .etc /Blackberry 88XX Series (320*240) Devices Models: 8800, 8820, 8830 .etc /Blackberry 89XX Curve Series (480*360): 8900(Javelin), 8910(Atlas), 8930, 8950, 8980/Blackberry 90XX Bold (Onyx) Series (480*320) Devices Models: 9000, 9020(Onyx)/Blackberry 96XX Tour (Niagara) Series (480*360):9600, 9630, 9650(Tour2), 9700(Bold2), 9780 /Blackberry 95XX Storm Series (360*480):9500, 9510, 9520, 9530, 9550(Storm2), 9570(Storm3), 9800(Torch)/Blackberry Pearl 3G Series (360*400) Devices Models: 9100, 9105, 9670(Style)