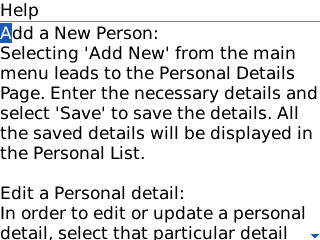 Tag:
Tracker
Glucose
Overview :
Glucose Tracker v1.0 for blackberry apps
Model:
Blackberry 71XX Series (240*260) Devices Models: 7100, 7110t, 7105t, 7100r, 7100v, 7100g, 7100x, 7100i, 7130e, 7130c, 7130g, 7130v/Blackberry 81XX Series (240*260) Pearl Devices Models: 8100, 8110, 8120, 8130/Blackberry 82XX Series (240x320) Pearl Flip Devices Models: 8200, 8220, 8230/Blackberry 8350i (320*240) Related Devices Model: 8500, 8520/Blackberry 83XX Series (320*240) Curve Devices Models: 8300, 8310, 8320, 8330 / Blackberry 87XX Series (320*240) Devices Models: 8700c, 8700r, 8700f, 8700g, 8703e, 8707, 8707g, 8707v .etc /Blackberry 88XX Series (320*240) Devices Models: 8800, 8820, 8830 .etc /Blackberry 89XX Curve Series (480*360): 8900(Javelin), 8910(Atlas)/Blackberry 90XX Bold (Onyx) Series (480*320) Devices Models: 9000, 9020(Onyx)/Blackberry 96XX Tour (Niagara) Series (480*360):9600, 9630, 9650(Tour2), 9700(Bold2) /Blackberry 95XX Storm Series (360*480):9500, 9510, 9520, 9530, 9550(Storm2)
Description:
The best way to track your Glucose with essential details. Includes statistical comparison and three date tracking options.
Detailed Statistics are provided to compare Glucose and Carbs values with respect to date. Glucose details can be tracked by Month, Date and Between dates. Statistical Comparison can also be tracked with the three date tracking options. Tracked glucose levels with one of two units(mg/dL or mmol/L). A Complete Health Care Utility.
Product Features:
Professionally designed user-interface
All data is stored in sortable format.
Three Date Tracking options
Sub-details can be added
Statistical analysis of glucose details