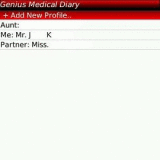 Tag:
Diary
Medical
Overview :
With this really useful app for your BlackBerry you can store all your family and friends medical details quickly and easily.
Have fast access in the case of an emergency or even when your visiting the doctors as a record of all your medical history.
Now you can add an emergency contact easily by selecting an existing BlackBerry contact AND call an emergency contact directly from within the app!
Note: Storm/Storm2 users will need to disable compatibility mode.
** Store an unlimited number of **
Medical Profiles
Insurances per Profile
Medication
Immunizations
Diseases/Conditions
Emergency Contacts
** You can also **
Fetch Contact or Profile information from an exisiting BlackBerry Contact
Call an emergency contact directly from the app
Minimum requirements:
Operating System
4.5, 4.6, 4.7 Non-Touch, 4.7 Touch Screen, 5.0 Non-Touch, 5.0 Touch Screen
Model:
Blackberry 82XX Series (240*320) Pearl Flip Devices Models: 8200, 8220, 8230/Blackberry 8350i (320*240) Related Devices Model: 8500, 8520, 8530, 9300(Kepler), 9330/Blackberry 83XX Series (320*240) Curve Devices Models: 8300, 8310, 8320, 8330 / Blackberry 87XX Series (320*240) Devices Models: 8700c, 8700r, 8700f, 8700g, 8703e, 8707, 8707g, 8707v .etc /Blackberry 88XX Series (320*240) Devices Models: 8800, 8820, 8830 .etc /Blackberry 89XX Curve Series (480*360): 8900(Javelin), 8910(Atlas), 8930, 8950, 8980/Blackberry 90XX Bold (Onyx) Series (480*320) Devices Models: 9000, 9020(Onyx)/Blackberry 96XX Tour (Niagara) Series (480*360):9600, 9630, 9650(Tour2), 9700(Bold2), 9780, Dakota, Apollo /Blackberry 95XX Storm Series (360*480):9500, 9510, 9520, 9530, 9550(Storm2), 9570(Storm3), 9800(Torch), Torch2/Blackberry Pearl 3G Series (360*400) Devices Models: 9100, 9105, 9670(Style)