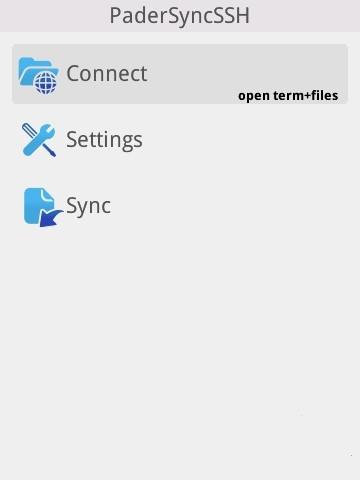 Tag:
PaderSyncSSH
Overview :
free blackberry apps : PaderSyncSSH apps for blackberry
PaderSyncSSH enables you to access your SSH servers at home or at work from your BlackBerry®.
Terminal Emulation
With the integrated VT100 terminal emulator you can connect multiple terminal windows, execute programs and manage the remote system. Solve problems while you are traveling and save a lot of time! Setup your own macros to save even more time!
SFTP File Browsing
Transfer files between your smartphone and a SFTP file service. Use bookmarks to conveniently connect to your favorite file systems. The integrated one-way file synchronization allows for easy updates of large folder structures.
You can download a help document from http://www.pader-sync.com/Guide_SSH.pdf
Access SSH servers.
SFTP file transfer.
Synchronize folders.
Terminal emulation.
Remote command execution.
Model:
Blackberry 71XX Series (240*260) Devices Models: 7100, 7110t, 7105t, 7100r, 7100v, 7100g, 7100x, 7100i, 7130e, 7130c, 7130g, 7130v/Blackberry 81XX Series (240*260) Pearl Devices Models: 8100, 8110, 8120, 8130/Blackberry 82XX Series (240*320) Pearl Flip Devices Models: 8200, 8220, 8230/Blackberry 8350i (320*240) Related Devices Model: 8500, 8520, 8530, 9300(Kepler), 9330/Blackberry 83XX Series (320*240) Curve Devices Models: 8300, 8310, 8320, 8330 / Blackberry 87XX Series (320*240) Devices Models: 8700c, 8700r, 8700f, 8700g, 8703e, 8707, 8707g, 8707v .etc /Blackberry 88XX Series (320*240) Devices Models: 8800, 8820, 8830 .etc /Blackberry 89XX Curve Series (480*360): 8900(Javelin), 8910(Atlas), 8930, 8950, 8980/Blackberry 90XX Bold (Onyx) Series (480*320) Devices Models: 9000, 9020(Onyx)/Blackberry 96XX Tour (Niagara) Series (480*360):9600, 9630, 9650(Tour2), 9700(Bold2), 9780 /Blackberry 95XX Storm Series (360*480):9500, 9510, 9520, 9530, 9550(Storm2), 9570(Storm3), 9800(Torch)/Blackberry Pearl 3G Series (360*400) Devices Models: 9100, 9105, 9670(Style)