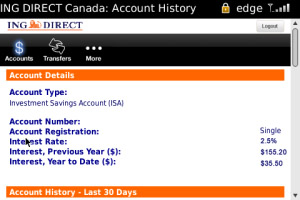 Tag:
9650 apps
ING
Direct
Overview :
free ING Direct for blackberry apps download
Model:
Blackberry 81XX Series (240*260) Pearl Devices Models: 8100, 8110, 8120, 8130/Blackberry 82XX Series (240x320) Pearl Flip Devices Models: 8200, 8220, 8230/Blackberry 8350i (320*240) Related Devices Model: 8500, 8520/Blackberry 83XX Series (320*240) Curve Devices Models: 8300, 8310, 8320, 8330 / Blackberry 87XX Series (320*240) Devices Models: 8700c, 8700r, 8700f, 8700g, 8703e, 8707, 8707g, 8707v .etc /Blackberry 88XX Series (320*240) Devices Models: 8800, 8820, 8830 .etc /Blackberry 89XX Curve Series (480*360): 8900(Javelin), 8910(Atlas)/Blackberry 90XX Bold (Onyx) Series (480*320) Devices Models: 9000, 9020(Onyx)/Blackberry 96XX Tour (Niagara) Series (480*360):9600, 9630, 9650(Tour2), 9700(Bold) /Blackberry 95XX Storm Series (360*480):9500, 9510, 9520, 9530, 9550(Storm2)
Description:
Easy to use and with features that will make it easy and safe for you to save your money.
Check your Account balances
After all, one of the secrets to saving your money is keeping track!
Review your transactions
Keep track of your transactions as part of your daily spending habits. You'll find that knowing how much you spend can help with your daily budgeting.
Transfer funds
Easily transfer funds between your ING DIRECT Accounts, or to your external Account when needed. External transfers take 1 - 2 business days and are safe, secure, and beats mailing a cheque. Directions and hours of operation for the ING DIRECT Save Your Money Cafes.
Want to speak to someone in person? Just check out one of our locations in Vancouver, Calgary, Toronto or Montreal.
You'll be able to access Canadian and US Funds and check your balance.
Made by: ING Direct